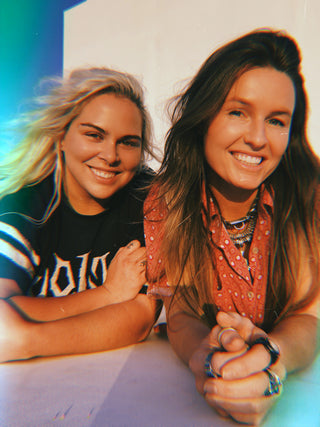 BLAIRE PORTER
co-creator + deck content 

In her adult life, Blaire has dabbled in a bit of everything: bartending, coaching, teaching, non-profit development, research, real estate and retail. Nothing felt right until she launched her own business to support others in their personal development. Combining spirituality, psychology and body-work, her biggest passion is in guiding others through their rebirths.
For Threads of Fate, she writes the deck content, does the digital collage art found in the backgrounds of the cards. She is also working on a wellness app coming fall 2020.

She loves crime + supernatural TV, wildcrafting, researching all things health, long walks in the woods, loafing on the floor, lovingly tormenting her fur babies and diving into endless self-psychoanalysis. She will often tell people her life had two possible paths: this one - where she is working to support others or as an ol' lady in a biker gang.
BRIT JUNE
co-creator + artist

Most people that know Brit will describe her as someone who has a knack for everything. Art? Duh. Food? Duh Unprecedented ability to turn shitty ingredients into an amazing meal. Embroidery? Mastered it on her first try.
As a multi-talented human, she is never short of amazing ideas. She has worked in fashion, the service industry, on cannabis farms and has done extensive menu creation for restaurants and personal clients. Having spent the last couple years in the LA cannabis industry and identifying what is missing, she has recently launched a creative agency for brands in the cannabis space.
In her free time, you can find her reading (or more likely asking Blaire to read to her), drawing, watching documentaries on icebergs, creating her own cannabis based herbal medicine and adventuring.